Help celebrate our 3rd season at Cherry Beach! Toronto SUP & Kayak and Taiga Board have teamed up to host FREE EVENTS on SATURDAY JUNE 3rd & SUNDAY JUNE 4th. Register for free SUP Clinics & Lessons, a free Intro to SUP Surf Clinic or just drop-in for Board Design Clinics and try out a range of Taiga Boards.
Taiga Board & Toronto SUP & Kayak will be giving away some great door prizes. Don't miss out!
SUP Board Design Clinics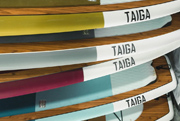 This free stand-up paddleboard board design clinic is led by experts from Taiga Board. Learn about the features of different styles of SUP and SUP Surf boards and how they affect performance—then take a variety of board designs out for a "test-drive."
Sat Jun 3, 2023 10:00am - 5:00pm

Sun Jun 4, 2023 10:00am - 4:00pm

Beginner SUP Lessons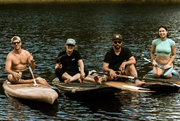 Discover the pleasure of stand up paddleboarding in Toronto's picturesque Outer Harbour. This 1 hour introductory SUP clinic is ideal for those who are new to paddle boarding and is taught by Taiga Board's accredited SUP instructors.
Sat Jun 3, 2023 11:00am - 12:00pm

Sun Jun 4, 2023 10:00am - 11:00am

Easy SUP Turns Clinics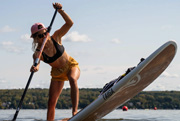 Learn a variety of SUP turning techniques ranging from basic maneuvers to advanced methods and master the art of turning with ease! Taiga Board's SUP instructors will guide you through proper body positioning, paddle strokes, weight distribution, and balance control to execute efficient and controlled turns tailored to your skill level.
Sat Jun 3, 2023 1:00pm - 2:00pm

Sun Jun 4, 2023 1:00pm - 2:00pm

Intro to SUP Surf Clinic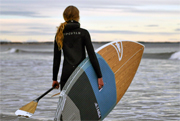 This 1 hour Introduction to SUP Surf Clinic is ideal for those looking to enter into the exciting world of surfing on a stand up paddleboard. Taiga Board's experts will introduce you to the fundamental techniques of SUP surfing the Great Lakes including board selection, safety tips, wave forecasting, and some on-water techniques that you can practice anytime such as body positioning, paddle strokes, and turns! Learn in a fun and safe flat water setting to get you stoked for surf season.
Sat Jun 3, 2023 3:00pm - 4:00pm